(song of the day: you give me something, james morrison)
did it rain where you were? it did a little bit today. i could've let it ruin my day (my hair, AND a perfectly good outfit,) but i did not! must have looked pretty weird actually. i was siting on the bus and then i started thinking about the office and had to try and hide my hysteric laughter. so today i'm sharing my top ten funny men!
10. seth rogen.
i LOVE his ridiculous laugh. cracks me up every time. he's sooo funny! and he's gotten so slim now. which doesn't necessarily make him funnier, but it will make his movies more fun to watch! heehee.
9. will arnett
i should preface this by saying i'm MOSTLY in love with his character on arrested development. but i suppose that show was the launching bored for my affection for will arnett! he's canadian too. which is pretty cool to me. to this day the strains of the final count down crack me up everyime. i can NOT wait for the arrested development movie!
8. michael cera
another arrested development hottie. i don't mind that he basically plays himself in each movie, he's HILARIOUS. and so awkward! and cute! (i was 2 meters-ish from him once! squee!)
7. hugh laurie
house is hilarious, but hugh is too. i love that self-depreciating british humour. and he's also a way talented writer and an amazing pianist. i like!
6. jack black.
i LOVE jack black, and not for the reason you're thinking =P he's so funny! school of rock was awesome, and so was tropic thunder! i'm not sure if i like his kid or adult comedies better. and he wasn't particuarily funny, but how AWESOME was he in the holiday! makes me cry every time.
5. seth mcfarlene
i can't lie. as offensive as it is, i find family guy HILARIOUS. i love random. and seth mcfarlene. it's the voices that get me. (i used to want to be a voice actress!) brian's my favourite. gotta love the straight man. errrrrr dog. but i have to say, i tend to bug my sister based on what i see stewie do. over.
4. will ferrel
ha-larious. couldn't pick a favourite movie if i tried! okay. maybe kicking in screaming. or anchorman. or step-brothers. no.... see? couldn't choose. i love when he makes cameos in other people's movies too. he's quoted as saying: "there's just something about yelling that's funny to me." and i absolutely agreee.
3. the boys of the office.
from best to least: b.j. novak, rainn wilson, steve carrel and john krasinski. at first i realize i didn't want to group them together, but then if i didn't, they took over half the list. no one else could make awkward so fun! or that many "that's what she said" jokes. and i'll admit, they're my favourite =P
2. seth meyers.
(there are a lot fo funny seths no?) meyers has been the headwriter on SNL for a few years now. the weekend update is usually my favourite part of the show. i'd also like to give honourable mention to my other SNL favourites: jason sudeikis, bill hader and andy samberg. plus he's SO cute, don't you think?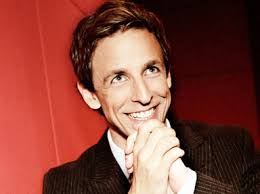 1. conan o'brien.
i once heard him described as "the orange-haired michael jordan of comedy." and i completely agree! he's my absolute favourite. it doesn't matter if i've been running all day. i will stay up late at night to watch his monologues. i miss them so much. but apparently he starts up the late show june 1. just two more months to go! check out this website where he finds a joke to insult EVERY country. funny list. trust.
there are so many more! it doesn't take much to make me laugh. heehee. this was a fun list. i realized two things. a) i think EVERYONE on this list is attractive and b) i don't think women are as funny as men are. i know that's bad to say but would you agree? who're the top 10 people who makes you laugh?
-lovelovelove.